Save money on diapers. With baby #2 on the way we've started stocking up on all the baby essentials. Diapers are at the top of the list. Sharing a few ways to save money on diapers…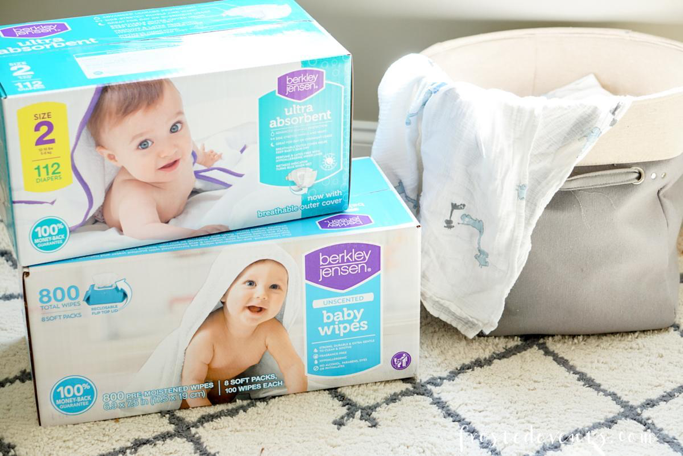 I'm going through all the things we have and all the things we still need to get ready for this baby to arrive. With this being our second, we have a lot of areas covered. I'm no longer giving myself grief for saving all those baby things from five years ago!
Save Money on Diapers, Wipes, Baby Formula and More!
When it comes to spending money on a new baby, it's really the basics that end up hitting your wallet the hardest. Diapers, wipes and formula for a year plus can really add up! That's why I'm all about finding ways to save money when it comes to baby essentials.

We love shopping at BJ's Wholesale Club because we save so much money on the all the things we love and use every day. It's also great for stocking up on all those baby items you'll need for a new baby. Berkley Jensen Ultra Absorbent Diapers, Berkley Jensen Baby Wipes, Berkley Jensen Infant Formula are three essentials we make sure we have on hand for every stage, from newborn to toddlerhood.

BJ's is a one-stop shop for all the things a new mom needs. I love the everyday low prices (because who has time to hunt down sales) and quality baby products. Plus, shopping at BJ's means less time shopping, and more time together with our new little love bug!

I know that I'm getting the very best for my baby with BJ's exclusive Berkley Jensen products. They offer the best value and assortment at an unbeatable price and are backed by a 100% money back guarantee. Seriously, only my wallet can tell the difference between BJ's exclusive Berkley Jensen brand and leading national brands. Every Berkley Jensen item, even their diapers and wipes, has been carefully engineered and tested to deliver products with superior performance and reliability.
Did you also know that families can save up to $500 a year by shopping at BJ's? That's a lot of money you can use for other things. Like the vacation you're gonna need after surviving the first year with your baby. And you'll save 25% off grocery store prices every day too!
Want to check out BJ's for yourself? Get a $25 BJ's Gift Card @BJsWholesale REFER A FRIEND program! Check it out at https://tellyourfriendsrewards.com/r/emofb
I was selected for this opportunity as a member of CLEVER and the content and opinions expressed here are all my own.
More Baby Tips
Baby Style| Keeping Kids in Cute Clothes Without Spending a Ton
Breastfeeding Diet Tips and Postpartum Nutrition
What's in My Diaper Bag? Take a Look